Read-o-Meter
4
minutes
THE IDEA
Artificial Intelligence here artificial intelligence there… Nowadays it is very easy to write that a project or technology is supported by AI. However, it is much more difficult to prove such a claim.
After years of work and development of our algorithms, when we were ready to show our AI capabilities, we decided to create a portal that clearly indicates our actual use of artificial intelligence in practice. To make it eye candy, we decided to give Internet users a website that transforms movies and photos into comics.
The base idea is simple, the user, who has access to the web browser on mobile or computer selects photos or videos through it and uploads them via our platform. Then our artificial intelligence watches & evaluates the material.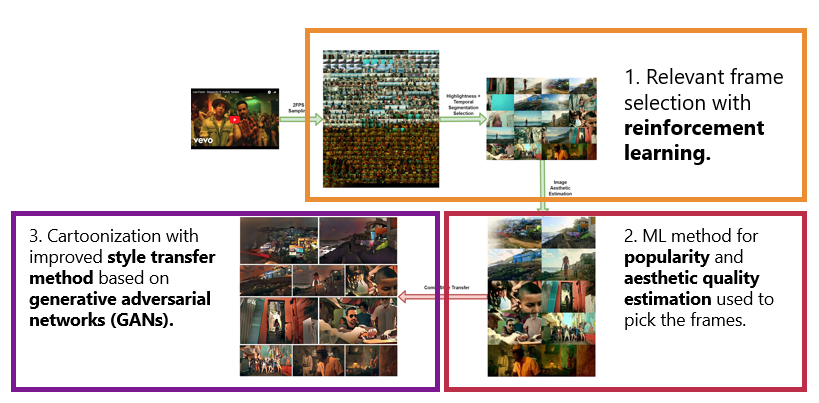 After choosing the best frames, AI changes the style of selected. Finally, AI proposes a comic with which the author can interact by changing the layout, style and adding text bubbles.
TRANSFORMATION
By creating the portal, a demo version of our AI abilities, we did not know that we would create a tool that is used successfully for marketing and HR activities. Honestly, if someone asked if during platform creation we thought about its use in HR and marketing activities, we should truthfully say NO. However, when developing our product, we quickly came to the conclusion that its use in this area is obvious and might give good results. Mainly because we live in a time of social media addiction. As mentioned by Natalie Davis (VP of Talent & Admin, Co-Creator of IMPACT's Core Values, Vision, and Culture Code) there are over one billion active monthly users on Instagram, over 95 million photos and videos are shared each day and those images and videos garner more than 4.2 billion "likes".
As research shows, the popularity of social media posts and content published by brands is dependent on a number of factors including events, promotions, and contests. Our platform can easily be used for all the above.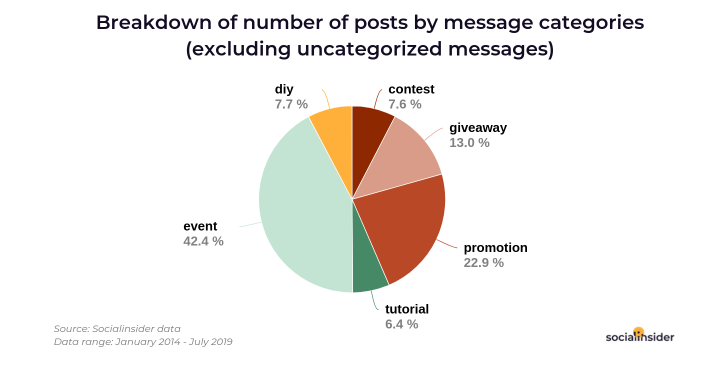 The above statistics are not surprising and if we look at data from Brandwatch which determines that the overall population of social media users is 3.725 billion users it becomes clear that our platform, that by its construction has great potential for sharability, is a natural communication tool on the brand client line.
Sharability?
Creating a comic is simple, but the process strongly engages the user. By choosing the style, a number of frames and adding speech bubbles user can be emotionally connected with a personalized comic strip he created. It is not surprising then that the ratio of shareability, which determines the number of all comics to the number of those comics that appeared in social media is almost 4%. It is also worth mentioning that our popularity & trending sections are a good mirror of whatis going on on the Internet.
A fantastic example (POC) of mentioned facts is our presence during DemoDay, event organized by Space3ac Scale-Up II Acceleration Program. We not only did a tremendous impression and completed the Acceleration Program with honors but we were awarded for "Best Pitch". Our tech was used by 32% of all Demo Day guests and more than 95% of Demo Day users decide to print created comics as a souvenir.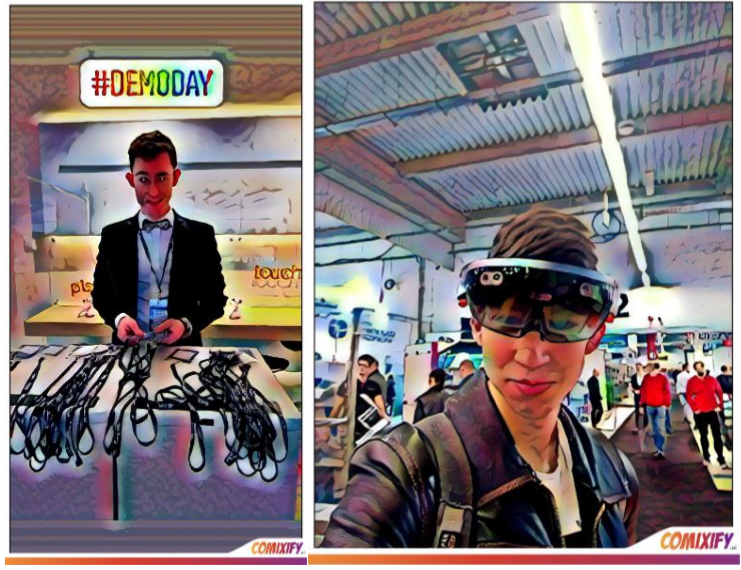 It was not a surprise that our way of thinking was appreciated by PKN Orlen S.A. and in 2019 we were able to provide them with two implementations of our platform.
HR – HACKATHON (HackYeah 2019) – "HackYeah – the biggest stationary hackathon in Europe!" Our platform was used as an online-2-offline tool that allowed HackYeah Guests to create comics via mobile or desktop and print it as a unique souvenir.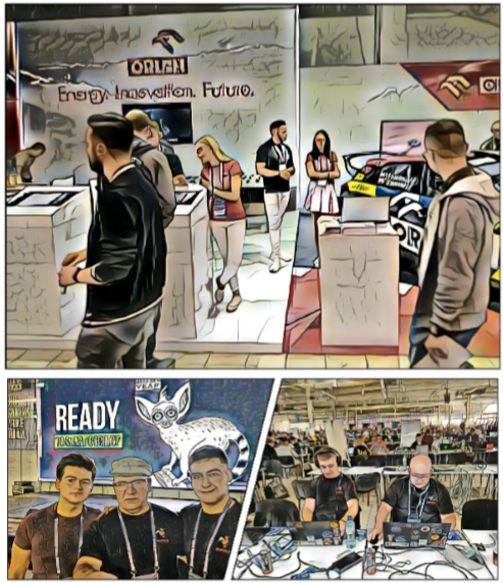 LOYALTY PROGRAM – VITAY – Vitay is a loyalty program that allows users to accumulate points and exchange them for rewards. Our platform was used as and contest toll on which users were creating comics to show the adventures they had with their cars.
MORE THAN ONLINE TOOL
As the platform allows users to print every generated comic it can be used to create unique souvenirs. From on-site prints during the events to cooperation with printing houses that can place comics on posters, on mugs and t-shirts. Based on the above the tool can be used for more than remote communication with customers. It can create forever lasting personalized gadgets with brand logo on it.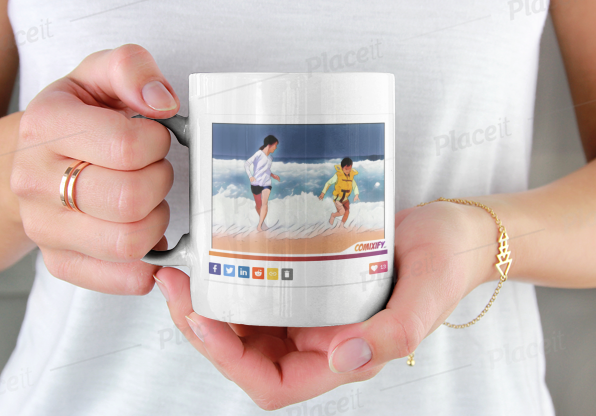 CUSTOMIZATION
Comixify platform is optimized for both mobile and desktop usage. The design and UX are carefully thought out and allows the user to easily create complex comics. With no need to install anything extra users can simply visit the web and create a comic.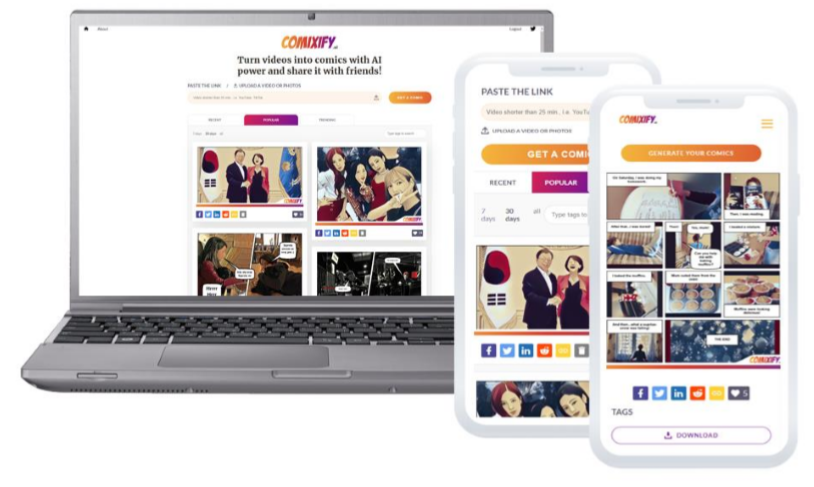 Still, the ability to adapt the platform to the brand's needs is there, and boy it is complex. In terms of graphics, we can start with changing the logotype we can go thru colors and fonts. We can also suggest the size and length of the comic, based on the knowledge of brand users.

The brand can also choose from the selection of more than fifteen filters and more including SEO – MetaTags and social media tweaks that will determine how the post will look when users will decide to share the created comics.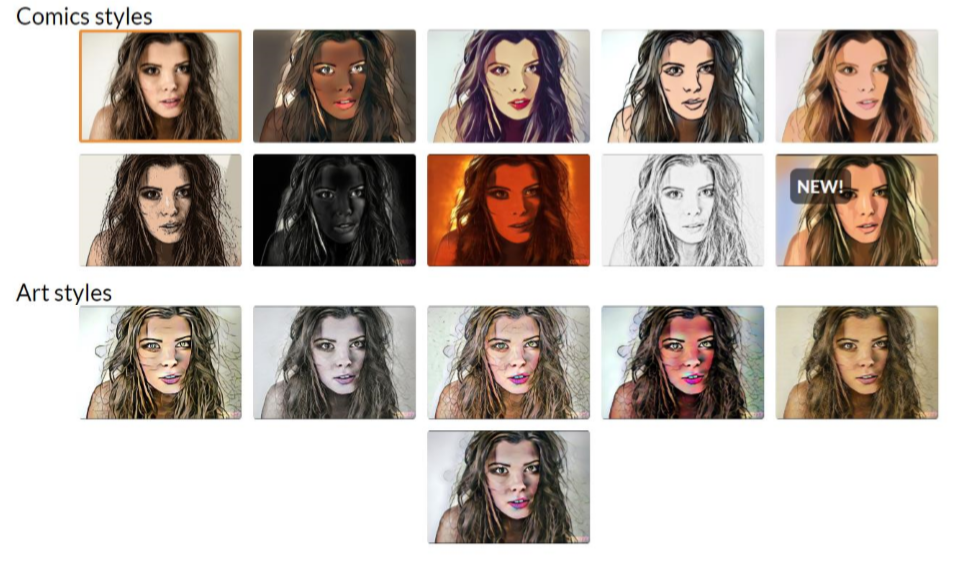 CAN I USE IT FOR MY BRAND?
Based on POC and finished implementations we do believe that with a simple incentive along with a well thought and inspiring challenge the brand will attract lots of people to create and tell the story via comics. This solution can be used by:
FMCG – for promotion of a new product,
RETAIL – for endorsing a specific line of sold products,
E-COMMMERCE – for introducing online habits or trends,
AUTOMOTIVE – to build on most known (good) brand facts,
FINANCE – for showingfor showing what a fantastic life awaits potential clients if they will use the service,
TRAVEL – showing the experiences of other customers and pointing out what adventures and luxuries we can expect.
COSTS
As complex as they are, the basic cost is less than USD 2000 and includes:
Platform frontend customization – adjustments in graphic and UX dep.
Platform backend customization – adjustments in meta tags, SEO and social media optimization.
Configuration of cloud environment – setup of all tools needed for smooth and fast operations.
Production infrastructure setup – determines the period of how long the platform will be live and ready for users to create comics. It also defines the period of how long photos will be available on the platform after being made.
TEST IT!
Please visit comixify.ai and test our platform for free.
Boleslaw Michalski | CMO
| Comixify.ai
| email : boleslaw@comixify.ai