Read-o-Meter
2
minutes
VFX platform now with Super Resolution!
by Maciej Pęśko
It has been a while but we are pleased to announce that Comixify VFX Platform has been extended with an additional module. Please welcome Super Resolution! This new functionality is now available for free for all the beta testing users (If you are not one of them, you can still apply for a free beta testing account under this link).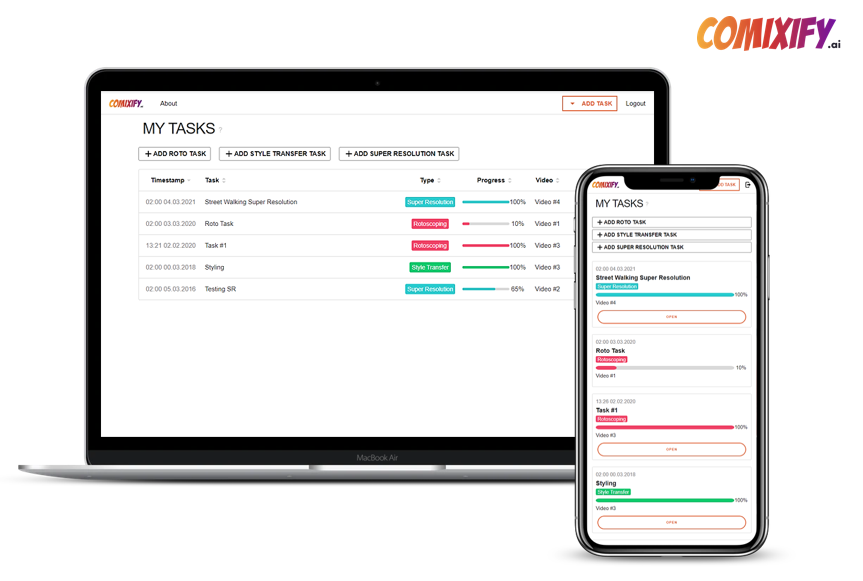 What exactly hides under the mysterious 'Super Resolution' name? Well, let's imagine one has plenty of low-resolution video sequences like 480p or 720p. Such scenes often cannot be used during video production because standards are 4K and 8K. What can one do with this fact? Obviously, the first idea is to use a simple upscaling algorithm with bicubic, linear or nearest-neighbor interpolation. Unfortunately, no additional information will be added then. In other words, an upscaled video would still have the same amount of details, the only thing that would change is the number of pixels in each frame. Clearly, that is not the desired outcome…
Luckily, our Super Resolution module can help with that, because it works in a completely different way. The Deep Learning model behind our service is trained to understand the content of the provided video in order to enhance the details frame by frame across the whole sequence. It was trained on the huge dataset of different video scenes to make it as versatile as possible hereby it allows one to upsample any video sequence up to 8K with an increasing level of details.
Samples of what can be done with this technology are demonstrated above and in the video sequence below. It shows the results of upsampling 480p videos to 4K. The level of achieved details can be especially observed on trees or the skyscraper in the presented video.
The whole process of achieving such results is very simple and consists only of a few clicks in our VFX Platform. The tutorial video of it is posted below. The only thing that one must do is to choose a video and desired output resolution. The upscaling magic is reserved for the AI that works behind the curtain of the web interface. The instructional video is also available on the VFX Platform in the help section.
For those who are curious about what is coming next, we can announce that by the end of this year we plan to release 2-3 more modules that we are working on right now, so please stay tuned for more cool tools soon!